Contact lenses are an excellent alternative to your prescription glasses when you're looking to switch things up. But eye conditions like astigmatism can make that difficult. The first step to finding the right contacts is visiting your optometrist for a contact lens exam and fitting.
Astigmatism can prevent you from wearing regular contacts, but the good news is that there are specialty options like toric lenses that are designed to address astigmatism.
Let's take a closer look at how astigmatism works, what contact lens options are available to you, and how your optometrist can help.
A Close Look at Astigmatism
Astigmatism is a refractive error that develops when the clear front surface of your eye, known as the cornea, or the lens inside your eye, is irregularly shaped. Typically, your eye has a round ball-like curve—astigmatism can cause your eye to become egg-shaped, resulting in blurred vision at different distances.
Common signs and symptoms of astigmatism can include:
Blurred vision at varying distances
Eye strain
Eye discomfort
Trouble seeing at night
Mild astigmatism can display little to no symptoms, so consistent eye exams with your eye doctor are important to monitor any changes in your vision.
Astigmatism can also develop due to various risk factors and causes like:
Complications after an eye injury or eye surgery
Genetics
Astigmatism can also come in different forms. Irregular astigmatism is the uncommon form of the condition compared to "regular" astigmatism. It's seen in patients with an irregular corneal surface brought on by natural causes or surgically induced.
Your optometrist can help find solutions for your astigmatism through specialty contact lenses and prescription glasses.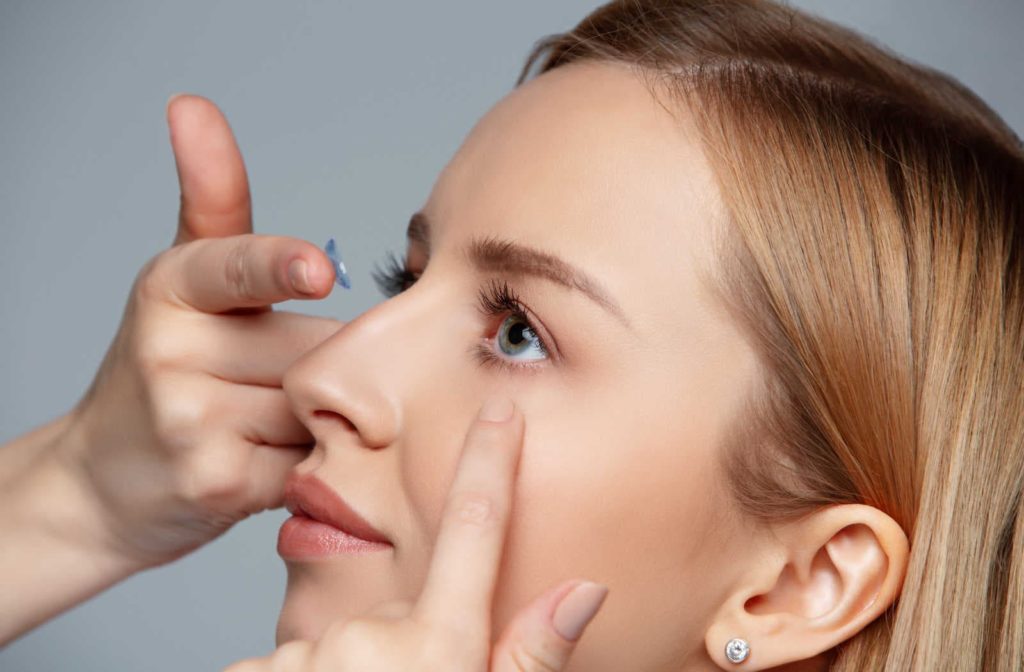 Can People with Astigmatism Wear Contacts?
Your Contact Lens Solution
Contact lenses typically fall under 2 main categories: soft contact lenses and rigid gas permeable (RGP) lenses. These categories feature various specialty lenses that address unique visual needs, like toric contact lenses for astigmatism.
How Toric Lenses Work
Toric contact lenses are designed to help correct astigmatism and are available in soft, RGP, extended-wear, and daily disposable forms. These specialty lenses compensate for corneal irregularities caused by astigmatism.
Toric lenses feature 2 different powers in one lens. One power focuses on correcting astigmatism, and the other on farsightedness or nearsightedness.
Toric lenses have a spherical design that resembles the side of a ball, and due to this unique shape, they require a precise fit. Your eye doctor provides a comprehensive fitting during your contact lens exam for your comfort and safety.
Getting a Precise Fit
Before getting your new contact lenses, a crucial step is the contact lens exam and fitting with your optometrist. Your contact lens exam includes a discussion of your wearing habits to determine what type of lenses you need. Your optometrist can update your prescription and also help fit new contact lenses.
The fitting process involves a trial period where you'll get an opportunity to see how they feel before committing fully. The fitting process can take multiple attempts, and this is completely normal. Your optometrist is committed to helping you find the most comfortable fit.
Innovative Astigmatism Solutions
Toric contact lenses are an effective option to correct astigmatism and continue to wear your contact lenses. The exam and fitting process is essential to finding your ideal astigmatism solution.
Schedule an appointment with our eye care professionals at Pinnacle Eyecare to find the right contact lenses to address your astigmatism.